The 2018 MTV Movie Awards happened, and you best believe we had something to say about it. Here are our most memorable moments from the night.
1. Tiffany Haddish and All Her Dramatic Glory
Let's be honest, we'll take any excuse to see a black woman put on a pedestal for a night, forcing the rest of the world to bask in her black girl magic. The award night was a big win for Hadish, being the first black woman to ever host the MTV movie awards, Haddish was able to reintroduce herself to the sliver of Hollywood present in the venue and the hundreds of thousands of viewers watching at home.
Okay, her array of bits and jokes from the raunchy renditions of Black Panther and Star Wars to inserting herself into A Quiet Place may have been a tad bit over-the-top at times, but at the end of the day, there's no denying that she knew exactly how to entertain a crowd. Hadish's work as the loud and rambunctious host we never knew we needed was a step in the right direction for both black and women comedians everywhere, solidifying her mark by also taking home the best comedic performance award from her role in the incredibly hilarious Girls Trip (If you haven't seen this one, go watch it right now- you'll thank us later).
2. Black Panther's Epic Clean Sweep
The real winners of the night were undoubtedly the cast of Black Panther as they took home three awards, including Best Movie, which is a huge win in itself. The recognition proved to be a change in pace when it comes to award shows, as the show didn't shy away from celebrating a black film.
The acknowledgment brought about its own set of gems, like giving us an excuse to openly ogle Michael B(ae) Jordan on stage as he accepted the award for best villain. Here, Jordan was able to show us that there's a layer of social justice behind those good looks, as he ever-so-gracefully called out Roseanne in what was probably the best shade-throwing of the evening. We were also reminded just how much we are unworthy of the Black Panther cast when Chadwick Boseman accepted the award for Best Hero by passing on the spotlight- this brings us to our third favorite moment.
3. Surprise Recognition of James Shaw Jr.
In a moment of true heroism, Boseman brought James Shaw Jr. onto the stage to acknowledge his brave actions, proving heroes do not merely exist on screen. In April, the 29-year-old courageously fought off a gunman at a Nashville Waffle House, jumping in before he could kill any more victims and throwing his gun across the bar. Shaw Jr. described the need to do something once he realized what was happening, and worked after the tragedy to raise money for the victims and their families. Boseman transferred the Hero title over to Shaw Jr. and gifted the young man with the trophy in one of the more heartwarming reprises of the night.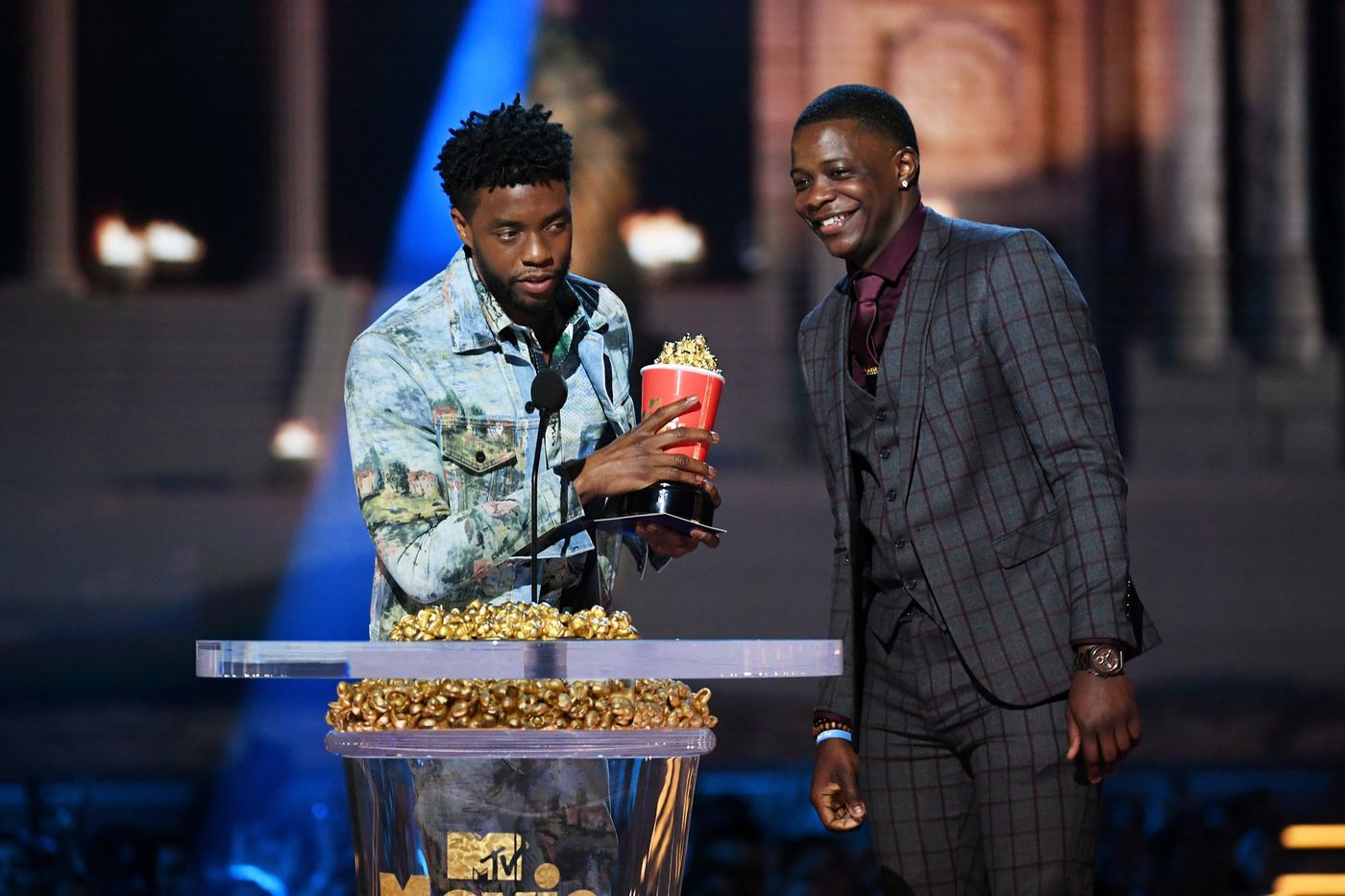 4. Love, Simon Wins Best Kiss
For as long as I can remember, the epitome of what one would call a "perfect kiss" has always been the same outdated image. Since 2002, every single MTV Movie Awards Best Kiss award has gone to a white actor or actress on behalf of a scene performed with a member of the opposite sex. As adorable as the love scenes from Twilight or Pitch Perfect may be, they do nothing in normalizing relationships of color and adapting to the rapidly diversifying society. It wasn't until last year, when Moonlight's Jharrel Jerome brought home the title, did MTV finally open the door for romantic diversity.
This year, they continued to move in the progressive direction by awarding the title to Love Simon's Nick Robinson, a perfect nod to LGBT+ representation with even better Pride Month timing. Although Robinson wasn't there to accept the award, the dazzling Keiynan Lonsdale who stepped up to deliver wise words to today's youth, urging kids across the country to be themselves.
5. Two Words: Lena Waithe
This year's Trailblazer Award went to Lena Waithe, and the writer, actress, extraordinaire could not have been a better choice. As the first black woman to ever win an Emmy for Best Writing of a Comedy Series, Waithe has guaranteed that her name is known amongst the creatives of Hollywood. Waithe is most acclaimed for her work on the intelligently comedic Master of None which she not only writes but also occasionally stars in. Recently, she could be seen in the Sci-Fi blockbuster Ready Player One. Throughout her rise to success, Waithe has not only let her blackness be known but also her presence in the LGBT+ community.
To coincide with a common theme of the night, Waithe also passed the torch of her win onto the trailblazers that came before her, dedicating the award to the stars of Paris is Burning. Giving praise to figures of the drag scene community that tirelessly worked to garner the rights they have today, Waithe took a moment to look back and thank those who made it possible for her to make it where she is today.
If the MTV Movie Awards were any indication of what is to come in Hollywood, then I believe I can speak for the masses in saying the public is more than ready for this introduction of diversity and social justice into mainstream media- bring on the change.